Our partnership with the Breede Centre
The Breede Centre in McGregor is a Skills Development Centre with a mission to enable young people to become self-reliant and empowered so that they can reach their full potential.
The Afterschool Programme caters for children from the village who range from 4 to 14 years old.  It runs both after the school day and when schools are closed. in addition to breakfast and lunch, includes early literacy and life skills programmes, art and craft activities, games and sports, outings and camps.
Most of the Breede Centre's beneficiaries struggle academically and live below the breadline.  Their home lives are severely affected by the social problems associated with poverty, ranging from alcohol and drug abuse to the ever-present threat of gender-based violence.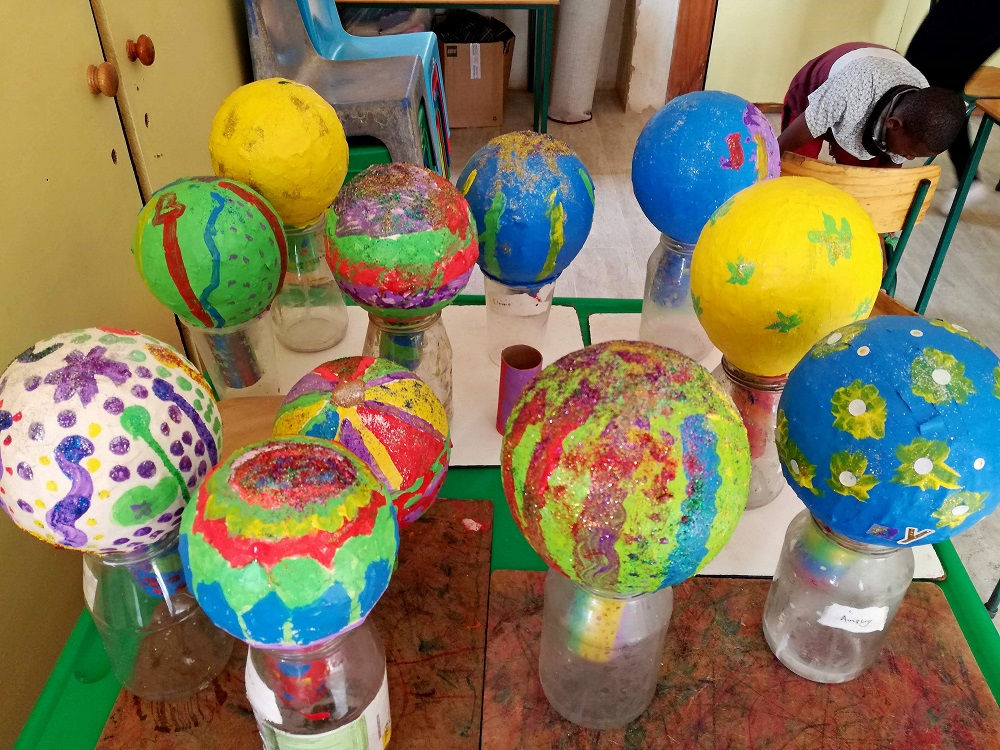 The value of art
Art engages people's senses in open-ended play and supports the development of cognitive, social-emotional, and multisensory skills. Art and related activities contribute to building stronger prefrontal cortex skills such as executive functions and memory so that children and young people are better equipped regulate their emotions. In other words, this programme will help the children and youth of McGregor to develop more positive self-images, make better life choices rather than succumbing to despair, depression, drugs, alcohol and early pregnancy.
The free expression in art is good for overall health and well-being and helps to relieve stress while also providing an opportunity to process troubles and trauma in a safe, reflective way.  Art develops problem-solving skills and makes for critical thinkers which will have a positive impact on both the academic and other parts of their lives.
The partnership with McGregor Art Walk is the realisation of a dream:  at last, there will be a talented, qualified and experienced art teacher to develop a sustainable creative and fine art programme.  Lead by Mary-Louise Stein, the programme will engage children in activities using painting, drawing, sculpture, storytelling, puppetry, music and drama.  At the same time, current and new staff will be mentored so that they, too can facilitate the programme.
In addition to the after-school programme, Mary-Louise will start art-classes-cum support group for teen mums so that they too can share in all the benefits of art.  The intention is that they, too, will develop skills to make better life choices for themselves and their children.
How you can help
You can help in one of several ways:
Bid on a work donated for our online auction.
If your bid is not successful, please consider an equivalent financial contribution to the programme
Last but not least, join us at the McGregor Art Walk over the weekend of 6 – 8 October 2023 when a number of the participating artists will contribute a percentage of their sales to this project.
To contribute
The Breede Centre Trust
Nedbank
Branch code: 122110
Universal branch code: 19876500 (internet banking)
Account no: 1234487691
Reference: MAW + name donor