Artists have, for decades, been drawn to McGregor.  Among the artists who're opening their studios or offering workshops for the McGregor Art Walk, are recent arrivals while others have lived in the village for decades.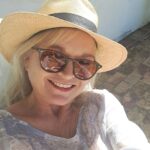 Studio:  1A Kerk St
Mary-Louise is a mother and a teacher, but more importantly an established artist in her own right. She has Diploma in Fine Art, UCT (Michaelis) (1991), a diploma in Montessori education and  a post graduate certificate in visual arts education, also from UCT. 
Exhibitions
2013: I Love My Laundry, Buitengracht Street, exhibition.
2011: Rust-En-Vrede, Constantia, group exhibition.
2010: Solo exhibition at Lumen Gallery, Manhattan New York.
2006: 38 Special, Cape Town, group exhibition.
2004: The Hout-Bay Manor, group exhibition.
Awards
The Santam young artists award while still at school
Lovell Gallery Art Award in 2012
About her own work, Mary-Louise says –
As a teacher I have not only inspired my learners but drawn much inspiration from their energy over the years. Their youth and vitality has been poured into my works and the passion that can be felt when viewing my colourful palettes can be seen woven through the stories told. There is a youthful quality to my mixed media works which are normally large scale formats as I find it hard to contain my energy on small surfaces.
Instagram: @steinmarylouise
Studio: How Bazaar, 46 Voortrekker St 
Joni-Leigh Doran is an internationally recognised McGregor-based oil painter inspired by her deep connection to nature. Formally trained as a graphic designer, she is influenced by the techniques of the classical masters and studied the techniques of oil painting under renowned South African artist, Ryno Swart, during his later years. She has participated in numerous local and international exhibitions.  
Recent achievements include making the top 100 in the 2023 Rust en Vrede Portrait Award (previously known as the Sanlam Portrait Award) as well as winning the "Facing Extinction" category of the 2022 Wildlife Artist of the Year competition, run by the David Shepherd Wildlife Foundation in association with BBC Wildlife.
Studio:  50 Voortrekker St
Oona Nauta is the ceramicist who is creating the beautiful wine goblets that are included with tickets to the McGregor Art Walk's official launch, and which is also the opening of Essence, the visiting artists' exhibition.
Oona's ceramic studio, StudioUno, is part of her own clay cob home, which she designed and built in 2006.  Although her studio is not open to visitors, she is showing her work at Art in the Garden, 50 Voortrekker Street.
It's been years since she matriculated from The Art, Ballet, Drama and Music School (now the National School of the Arts) in Johannesburg, and which is where her formal training ignited her passion for ceramics.  While at UCT in 1980 at the Michaelis School of Fine Art, she became hooked on sculpture and mould-making.  Later, and for five years, she worked with ceramic artists in Greece and she painted pottery for the film series, Troy, in 2015 (filmed in Cape Town). 
Oona loves hosting workshops for beginners and children to help build and refine their skills and passion for clay work and glazing techniques.
"All these wonderful opportunities and constant development of my creative and technical skills, enable me to achieve self-expression in clay.  They offer endless opportunities for exploration and imagination with form and texture and experimenting with the magnificent alchemy of colour-glazing techniques and artistic rendering," she says.
As a child, Oona loved playing with clay and is still playing with clay, mainly creating functional pottery to light up hearts and brighten homes and/or make the perfect gift.  She's always excited when she makes cups – goblets, "After all, isn't everyday a celebration, a reason to fill your cup to the brim with love and compassion?"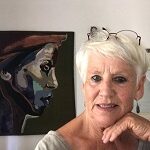 Studio:  39 Mill St
Cher's passion for creating fabric portraiture was inspired by local McGregor artist, Jo Nowicki, who introduced her to fabric collage in her Lion House Studio in 2017.
Since then, she's spent many hours of creative mixing, matching, snipping and layering the many fabrics from her late mother's trunk-full of patchwork and dressmaking remnants.  From the unwanted, she discovered a new expressive medium for her love of portraiture.
Untrained, she has found her way to creative expression which began with reference photographs that inspire her, to now working instinctively collating and layering the fabrics that she feels are most suited to the mood of the character.  From the multitude of fabric scraps that would normally end up in the bin, she builds contours and textures into the finish.  First, each piece is glued into place then out comes her beloved 45-year-old Elna Lotus sewing machine and she stitches the portraits – freehand.
Each work is unique;  no two can ever be the same.
In every row of stiches lies her silent acknowledgement of the well-spring of creative energy that enables something beautiful to emerge, to Jo for starting the process, and to her mom for the surprising stash of fabrics, threads and scissors.
The collages are best not framed behind glass as the textures invite a tactile experience. Unframed they are easily folded or rolled for hassel-free transportation to far-away destinations.
Contact:  083 235 5695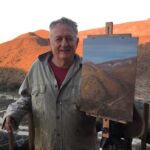 Studio: 7 Voortrekker St 
Mike's 40 years as a professional geologist, prepared him for sailing into the arts.  Travelling extensively through rural Southern Africa, he experienced the rich diversity of terrain, ecosystems and culture. About 15 years ago he was inspired to take up the brushes. Retirement in 2017 gave him to more opportunity to interact with the rich Western Cape talent through workshops and painting outings.
Building mind pictures of the earth and its processes is second nature to Mike. Crawling across, mapping and describing rocks gave birth to his aptitude for landscape art.
Through his Art, Mike celebrates the road he has travelled. It has released him from the confines of scientific rigor and a corporate environment. Mike's paintings illuminate creation – natuare, wide open spaces and – ultimately freedom.
Web:    Art by Mike
Contact: 082 808 0437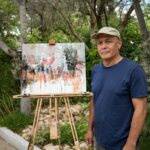 Studio: 18 Voortrekker St
A McGregor resident, Richard Joshua says that it is here that he has found the perfect setting for his artistic expression. From his childhood in the townships, through his graphic design and visual art studies, to his strong connection with the native people of Arizona, he has always been immersed in some sort of visual imagery or other.
Portraits, every day buildings, landscapes and horses are the focal points of some of his most celebrated artwork.  Richard creates a unique style that conveys a sense of life, vibrance and captures the true essence of the subject through innovative use of brushes, squeegees, ink brayers and palette knives.
Nicoli Fechen, Alex Kanevsky and Christian Hook, amongst are his current sources of inspiration.
Richard says, "I see my art as a journey of discovery, with the freedom to explore and develop my own visual language. I am fascinated and drawn to the interruption of realism, by improvising with painterly brush strokes and mark making. My aim is to create movement and emotion in a realm where colour and expression is appreciated more than true representation."
Instagram: @rickyjoshart 
Studio-gallery:  7 Bree St
Born and raised in Italy, Dani moved to South Africa in 2011 after becoming disillusioned with the fast-paced European lifestyle and business world.  He was ready for change. After much searching in the Western Cape, he settled in McGregor which provided the perfect setting for his photography to evolve naturally into something deeper and long-lasting.
Photography had always been just a hobby and when Dani photographed the local Poetry Festival, he realised that it was an incredible opportunity to express his creativity. This ignited his passion for capturing images that reveal essence and experience.
He continues to photograph McGregor and its beautiful surroundings as well as local events, further honing his skills and techniques.
For the McGregor Art Walk, La Galleria is holding an exhibition of local painters and photographers, Joni-Leigh Doran, Richard Joshua, James de Knoop, Dani's Photos and Mark Chips.
Web: Dani's Photos
Facebook:  Dani's Photos McGregor
Instagram: Dani's Photos McGregor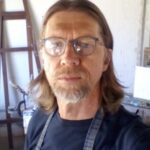 Studio: 26 Mill St
Glynn trained at East London Technical College under Jack Lugg, receiving a Diploma in Graphic Design in 1982.
Over the next 40 years he worked first as a commercial illustrator for advertising for 20 years, and as a fine artist, taking on commissions as well as producing his own personal work.
Subsequently, and continuing to paint, he has diversified his activities and interests to include graphic design, book illustration as well as part time lecturing in various aspects of design and photography.
Subjects include landscapes, streets and buildings, portraits and still lifes.
Contact:  084 840   2745
Studio: 26 Mill St
|Margie completed her Graphic Design diploma at East London Technical College in 1981 before working in advertising and design in Cape Town, Johannesburg and Durban before marrying and raising a family.
Over the years her interest has shifted from design to fine art to which she devotes more attention and time since the family has grown up.
Contact:  084 771 8620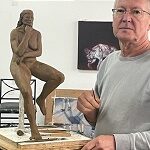 Studio: 60A Mill St
Trained in graphic design, Angus started his advertising career in London, before moving to Cape Town and then Johannesburg.
Angus worked at some of the biggest advertising agencies, inspired by some of the legendary creative minds of the 80's and 90's. Angus was engaged in all aspects of design, print, photography, cinema and TV commercials. His graphic background and ability to communicate ideas is clearly visible in much of his work which is playful and quirky.
After moving to Cape Town, Angus hung up his advertising hat and migrated more towards printmaking and painting.  Angus spent a number of years under the guidance and influence of acclaimed artist, Judy Woodborne.
The process of idea generation remains an on-going and unresolved mystery…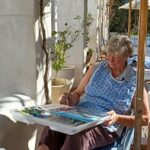 Studio: 11 Mill St
Anne's art style is realistic/romantic impressionist – she uses traditional materials, oils, acrylic, watercolours, charcoal and pencil on a variety of surfaces such as canvas, wood and paper.
She has been painting for as long as she can remember, doing Art in Matric at Jeppe Girls in Johannesburg and then a year and a half at Wits and studied Fine Arts under Cecily Sash – a South African artist, designer, and teacher who taught design at the University of the Witwatersrand for more than 20 years.
While Anne lived in Johannesburg, she belonged to the Watercolour Society of South and helped to run the Midrand Art Society.  After moving to Cape Town, she joined the South African Society of Artists, and her work earned a commendation at an Exhibition at Kirstenbosch.
When she moved to McGregor on 2001, she opened a small Art Gallery called Mulberry Studio which she ran with her husband before moving to Mill Street in 2017.
Anne started the McGregor Art Circle in McGregor with Des Mitchell a couple of years ago, with quite a few McGregor Artists joining and exhibiting in the Temenos Garden.  Now, the Art Circle exhibits weekly in the McGregor Garden Gallery which opened in 2021.
She enjoys painting my surroundings in the beautiful environment of McGregor as well as in the surrounding wildlife.
Artists and artworks that inspire her:  Claude Monet, Édouard Manet, Egdar Degas, Pierre-Auguste Renoir, Camille Pissarro, Vincent van Gogh and Rembrandt van Rijn.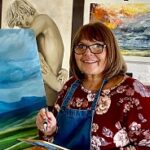 Studio: 3 Smith St        
Des's art journey began in the 1970s when she enrolled as a student teacher at the Johannesburg College of Education.   She had to choose academic majors and a specialisation subject and she found the first easy but the second needed some thought. The one that was most appealing was specialising in Art Education, even though she had no memory of ever doing any art in her school years.  The students were asked to draw a house to assess their talent.  To her surprise and delight she was accepted into the course. 
Des remembers initially being much like the young pupils she would eventually teach.  Inexperienced, curious and enthusiastic, exploring art activities her lecturers introduced. These served her well her 35 years in both child and adult education. When that season ended, she was free to pursue her own creativity: learning about oil painting was at the top of her list. She found a local art teacher, Eve Page, whose approach was for her pupils to select a favourite painting, and under her skilled tutelage, she would teach them how to copy it using the Old Masters' techniques.   Des's love of Renaissance art led her to paint a detail from da Vinci's 'Madonna of the Rocks'. She found the experience wonderfully challenging, hugely rewarding and a fabulous way to learn the basics of painting in oils.  Her love of portraiture was also born. Mood and emotion in faces draw her attention and inspire her.  "I try to capture that in my art pieces. 
There is a vast array of emotions to be drawn upon in the human face – compassion, peace, acceptance, humility, serenity, curiosity, inquiry, surprise, longing, anger, pain, peace and so many others," she says.    
An unexpected development was Des's being commissioned to illustrate a book Come Into The Garden – adult wisdom stories for the child within – inspired by Temenos Retreat Garden in McGregor.  This opened the door to further commissions for watercolour illustrations including a number of children's books, educational books, a venue booklet and botanical illustrations for a wedding. 
Des adds, "When illustrating a children's story, I imagine the child peering over my shoulder, trying to spot what might be hidden in the picture.  These unknown little ones are my most beloved inspiration".
Studio: 3 Berg Laan (off Grewe)
Dawn's expressers her obsession with the power of colour on canvas.  World travel inspired her to paint and explore different styles.
This journey has taken her from landscapes in water colour to abstract work in oil on canvas.  Wassily Kandinsky and his early 20th century circle was a great influence in this unfolding.
Studio:  1 Grewe St
Lorraine founded The African Queen Studio which transforms natural "waste", using  locally collected jacaranda pods to create exquisite chandeliers which are often embellished with beads and crystals to give that extra sparkle.
Lorraine founded The African Queen Studio which transforms natural "waste", using  locally collected jacaranda pods to create exquisite chandeliers which are often embellished with beads and crystals to give that extra sparkle.
She and her team specialise in creating bespoke pieces and is well known amongst discerning clients who choose sophistication and bespoke design. The African Queen's chandeliers grace many a home, game lodge, restaurant and hotel nationally and internationally.
Tel: 076 1949 401
Website: The African Queen Studio
Studio:  50 Voortrekker St
Steeped in eastern philosophy and a long time meditator, Barbara wanted to extend the invitation to look within herself, to find that refuge and that inner peace in this ever-changing, challenging world. She began meditative sculpture in 2001.
About 7 years ago she ventured into, what was for her, a challenging new journey – painting – mixed media, ink painted onto glass and alcohol ink. Her latest challenge and exploration, is working with rusting metal. She is, with a little help mostly self-taught in all the media in which she works.